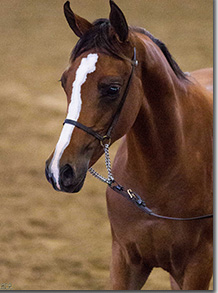 08/09/16 Bay Mare
A Kehaileh Rodanieh
SCID, CA, LFS Clear
2017 QLD Gala Event Top 5 Yearling Filly
'Prinny' is the precious only daughter of Jaytee Royal Princess. She represents a fantastic blend of classic Australian breeding. With her stylish looks, good conformation and bold movement we believe Prinny has a bright future.
Her dam Jaytee Royal Princess was bred by Julie and Terry Canacott and is sired by Royal Gindi. She is the youngest daughter of Arabian Park Ruling Queen (Ansata El Hakim x Desert Queen), making her a half sibling to the dual Australian Champion halter performance mares Jaytee Giselle and Jaytee Coppelia.
Prinny's sire Eskdale Razeem is a son of unanimous Australian Champion stallion Baranski and from Rose of Saragani, dam of champions around the world.
PEDIGREE OF ESKDALE PRINCESS ROYALE
Eskdale Razeem
Baranski
Barabas
Dancing Silver
Rose of Sarangani
Rave VF
Eskdale Princess Royale
Wild Rose
Jaytee Royal Princess
Royal Gindi
Royal Domino
Misik
Arabian Park Ruling Queen
Ansata El Hakim
Desert Queen