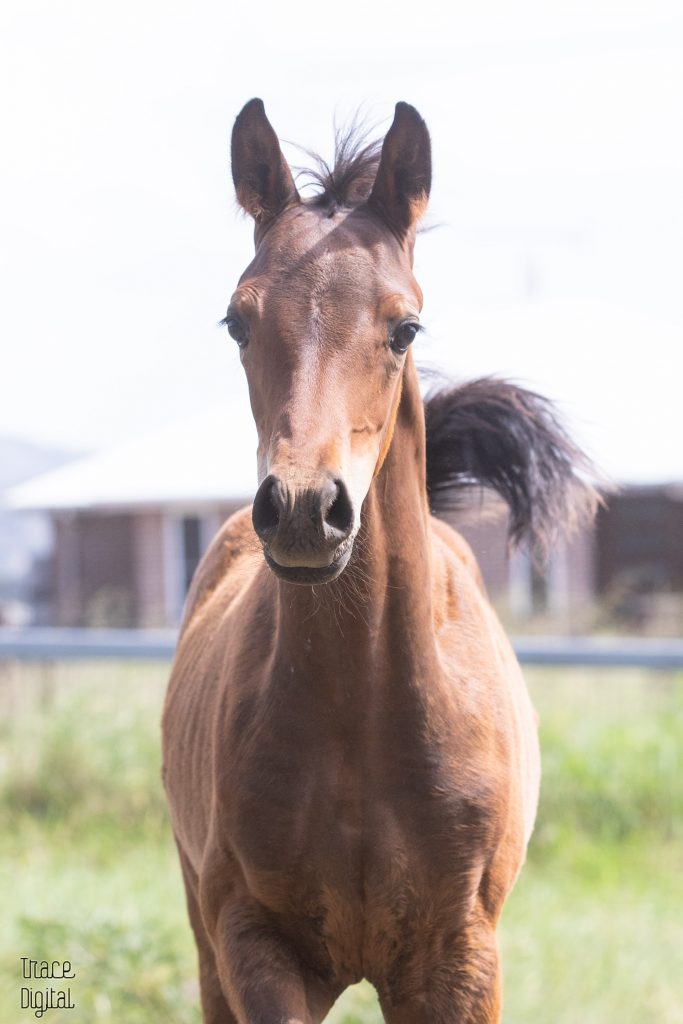 01/11/2018 Bay Gelding
Anglo Arabian

To mature approximately 16 – 16.2hh
Offered on behalf of Summer Park Anglos, Apollo is suited to someone who would like a a young horse to train and show. He has huge potential as both a led and ridden show horse.
Sired by Diamond Explorer and from Summer Park Spice Bubbles. Apollo carries 50% Arabian and 50% Thoroughbred lines. These lines have consistently produced horses between 16 – 17hh.
His sire Diamond Explorer ( dec ) stood 16.1hh and was a successful halter and endurance horse. He was a competitive heavyweight endurance horse with successful finishes up to 160klm.
Diamond Explorer is by Eskdale Silver Diamon (Arabian Park Damon x Ambassadors Silver Destiny) Diamon competed successfully in halter and under saddle as well as siring the accomplished endurance horse Hirstglen Fargo among many other successful performance and halter horses.
Diamon's dam was Ambassadors Silver Destiny ( IMP UK ) sired by the well-known Mikeno son Magnifico (UK ). Destiny produced the successful endurance horses Eskdale Silver Damien and Eskdale Espirique.
Diamond Explorer's dam is She's Impressive, a 17hh+ daughter of Imposing. Imposing was a successful race horse and also sired the 1992 Cox Plate Winner Super Impose.
Apollo's dam is Summer Park Spice Bubbles (Eskdale Espirique x Honey and Spice) Eskdale Espirique (Amirique x Ambassadors Silver Destiny) was an accomplished show horse and endurance horse up to 160klm. Espirique also sired Eskdale Estiaan (exp Th) winner of the Thailand Presidents Cup and the successful saddle horses Summer Park Stargate and Sheikha Bae. Honey and Spice is by Semipalatinsk who is well-regarded as a broodmare sire and as a source of tough sound good performing racehorses from the Star Kingdom male line.
Summer Park Apollo has two lines to Ambassadors Silver Destiny and two lines to Star Kingdom. He is full sibling to Summer Park Maximus (exp Qatar) who has been successful in endurance up to 100 km
PEDIGREE OF SUMMER PARK APOLLO
Diamond Explorer
Eskdale Silver Diamon
Arabian Park Damon
Ambassadors Silver Destiny
She's Impressive
Imposing
Summer Park Apollo
Novia
Summer Park Spice Bubbles
Eskdale Espirique
*Amirique
Ambassadors Silver Destiny
Honey and Spice
Semipalatinsk
Honey Mine